no more one hour free play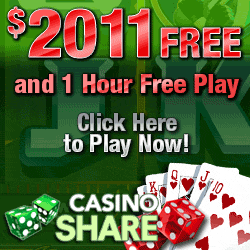 This kind of banners will disappear in near future. A few online casinos of the Rewards casino group offered 1 hour free play. From half October 2017 they announced to stop with this interesting casino offer. The reason? Most browsers will no longer support flash enabled, so Rewards has no other choice then to remove all of the 1 hour free play/60 minutes freeplay offers from their casino brands (they will no longer be compatible).
Which casinos are involved?
In the past, we composed special pages about the 60 minutes free play for Casino Classic, Golden Tiger Casino, Casino Action, Yukon Gold casino, Blackjack Ballroom casino and Players Palace casino. As a regular player, you know that all Rewards casinos are supported by Microgaming software and that these online casinos are very popular amongst players worldwide when they are not restricted to play. We even made separate list for 1hour free play for Australian players, UK residents, and US players. We will update these pages in near future as we promise to keep our casino information up to date.
The new bonus offer now
So, Rewards has to come up with brand new and interesting new bonus offers for their gamblers. They have decided to offer multiple bonuses, like the current trend in all online casinos. As they state: we will all be changing to a vanilla sign up bonus where players will get the amount over their first 3 or 5 deposits. The amounts will stay the same as what was offered as freeplay. For example, Casino Action will be offering 1250 free over the first 5 deposits. The advantage for multiple deposit bonuses is that players have to return and play for their next step bonus, so a very interesting strategy developed by not only the Rewards group casinos; all online, mobile casinos make use of this bonus strategy for the past months.
Some examples of such a multiple deposit bonus offer
• Golden Tiger casino offers €$1500 free, spread over 5 deposits: 1st Deposit: 100% up to $€£100; 2nd Deposit: 50% up to $€£300; 3rd Deposit: 20% up to $€£500; 4th Deposit: 30% up to $€£500, and the 5th Deposit: 100% up to $€£100.
• Casino Action offers €$1250 free, spread over 5 deposits too: 1st Deposit: 100% up to $€£150; 2nd Deposit: 50% up to $€£200; 3rd Deposit: 25% up to $€£500; 4th Deposit: 50% up to $€£250, and their 5th Deposit: 100% up to $€£150. It will look like this: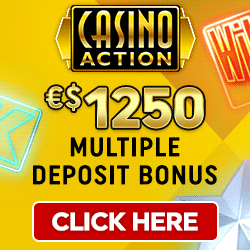 So, make your first deposit and receive your first match bonus of 100% up to $150. To be eligible for this offer, players must have a first time REAL account. For your information, here more details borrowed from the T & C's: Each individual deposit made with Casino Action is considered a single deposit for the purpose of this promotion. The total of successive deposits cannot fulfil the sign up bonus requirements - each deposit is only considered individually. Therefore the first five (5) individual deposits ONLY will determine the bonus amounts allocated for the purpose of this promotion. Your deposit may be cashed-in, providing any minimum bet requirements associated with redeemed bonuses have been satisfied. The first deposit bonus is subject to 60 times play-through before your balance may be cashed in. Subsequent bonus amounts credited to a player's bonus account (after the first deposit bonus) will be subject to 30 times play-through before they may be cashed in. The wagering requirements (for withdrawal purposes) will start being counted from the time all Bonus monies are added to the Casino account.
The benefit of multiple deposit bonus offers
The multiple deposit casinos are a favorite to all the real gamblers. Why? Because these kind of deposits give you the most free money for the least amount of money you play with. Some offers may be giving you money on 3 consecutive deposits, some may give you the bonuses on 4 or 5 deposits. The reasoning for casinos givng you this money, of course, is to keep you coming back from more, and why wouldn't you? You are playing with free cash!